Subscribe to Stay Informed
Back to News
Cummings Preparing For Annual 'Stuff The Bus' Event
Posted 08/06/20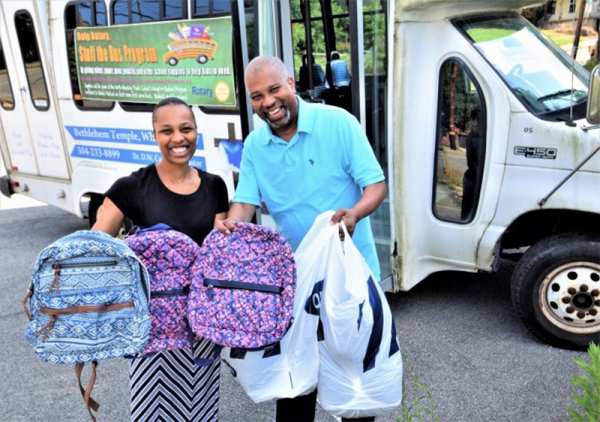 WHEELING — With tears in her eyes, a woman dropped off several large bags of newly purchased winter coats at the Bethlehem Apostolic Temple on Wednesday as a way to benefit the church's 30th annual "Stuff the Bus" back-to-school program.

The act of kindness was just one person's way of assisting local students and area families in need with the necessary supplies as they prepare for another school year, according to Pastor Darrell Cummings.
Scheduled to take place from 10 a.m. to noon this Saturday in the temple's parking lot next door to 330 Main St. in North Wheeling, the "Stuff the Bus" program is a fundraiser that provides area residents the opportunity to drop off school supplies or monetary donations to benefit the annual "Adopt-A-Student" drive-through giveaway scheduled from 10 a.m. to noon the following Saturday, Aug. 15, behind the Dream Center in North Wheeling.
While the "Stuff the Bus" program has been held in front of Walmart in St. Clairsville in recent years, it was decided that this year's event would be held in the church's parking lot as a way of following social distancing guidelines due to the COVID-19 crisis, according to Cummings.
"Because of the virus (the Walmart location) is no longer available, but the kids are still in need. It's not convenient for the people and it doesn't necessarily dictate what store they'll get it from but it will still be helpful to the kids," Cummings said.

"Sometimes people would give a dollar or five dollars, some gave ten or twenty when they would walk in the store … but we won't be able to do any of that and that was a huge part of our help and that's now gone. I don't know if it's gone forever, but we definitely know it's gone for this year," he added.
Cummings said church officials are unsure how this year's event will go, but they felt compelled to at least try to organize the annual fundraiser.
"We don't know how it will turn out … but we tried to do what we can," Cummings said.
In addition to school basic school supplies like: book bags, calculators, notebooks pens and pencils, families will be provided with clothing and food baskets during the "Adopt-A-Student" event next weekend. Cummings said the fundraiser assists families with school supplies throughout the entire school year if needed. "We tried to make it as convenient as possible," he added.
Cummings said they started the back-to-school fundraiser in 1990 and they assist hundreds of local students each year through the program.
"We've helped kids in kindergarten through 12th (grade)," Cummings explained. "Sometimes I've been in places where I've heard people say 'You helped me in the third grade,' or 'you helped me with my school supplies,' and now they're adults and have kids themselves … but it's good to know somebody remembered."
Cummings said for those who are unable to attend the "Stuff the Bus" event but still want to contribute to the cause, church officials came up with several ways to donate to the program. He said a monetary "gift" donation for the back-to-school program can be mailed to "Adopt-A-Student Program" at P.O. Box 6051, Wheeling, West Virginia, 26003. For additional information on other ways to donate, simply visit the church's website at bethlehemapostolictemple.org or the greaterloveministriesWV.org website or call 304-233-8899
Source: The Intelligencer. Wheeling News-Register, Scott McCloskey, 08/06/2020
Photo: Bethlehem Apostolic Temple Pastor Darrell Cummings and his wife, Latisha, prepare for the church's 30th annual Stuff the Bus back-to-school program scheduled for 10 a.m. to noon Saturday in the temple's parking lot next door to 330 Main St. in North Wheeling.