Subscribe to Stay Informed
Back to News
Dr. Cummings Black History Month Celebration News Article
Posted 02/17/22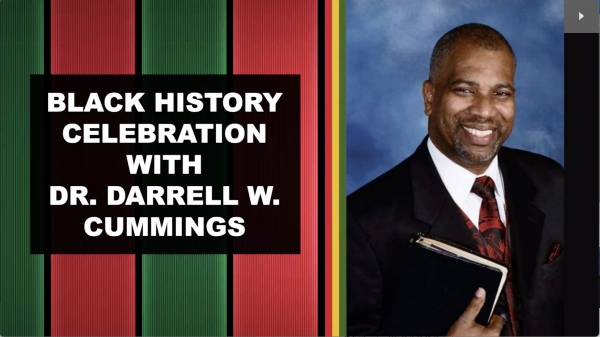 There were a number of notables in Black History that went on to their reward in 2021. Since February is Black History Month, let's see who we can name. There's no way to name them all or talk about their accomplishments. More names will not be mention then we get to mention. Some names will be recognizable and some will not be known. Allow me to try to give them honor the best way I can today. Here are my top 20 in no special order.
Many have heard of Rosa Parks who refused to give up her seat on the bus, but do you
remember Martha White? She refused to give up her seat on a crowded Baton Rouge, Louisiana bus in 1953. Her case then helped them frame the Montgomery Bus Boycott two years later in 1955.
(2.) Melvin Van Peebles, legendary movie director, many consider him to be the father of Black American Film Industry.
(3.) Lee Elder, who in 1975 was the 1st Black player to play golf in "The Masters." He won the PGA Tour events 4 times.
(4.) Bishop Desmond Tutu, a South African Archbishop, who was the 1st Black to hold that office. In 1984 he won the Nobel Peace Prize; Bishop Tutu is known as an international human rights activist and voice of moral leadership. He also worked with Nelson Mandela.
(5.) Wanda Young, 1/3 of the Marveletts a famous singing group of the 1950's & 60's.
(6.) Shirley McBay, a mathematician who was the 1st Black to receive a Doctorate from the University of Georgia.
(7.) Lee Evans who made a world record in the 1968 Summer Olympics winning the gold medal in the 400-meter race. This is approximately 6 months after Dr. Martin L. King was shot to death. What makes him famous or in-famous was while he was accepting his medal, Lee Evans wore a black beret to match his black socks and raised his fist.
(8.) Pervis Staples, a tenor voice of the famous Staples Singers.
(9.) Alice Hastings, 1st Black appointment to office of Federal Judge in the State of Florida. Also, the 1st Black person elected to the Florida House since the Reconstruction. Also, Florida's longest running Congressman.
(10.) Alvin Sykes, self-taught legal advisor who helped re-open the Emmett Till lynching case of 1955. It was this case that helped spark the March On Washington.
(11.) Elgin Baylor, an NBA legend who played with the LA Lakers. He was a super-star of his day.
(12.) Marvelous Marvin Hagler, a Boxing Legend, and a former Middleweight Champion.
(13.) Robert Ashby, one of the only 3 survivors of the Tuskegee Air Force.
(14.) Iru Cross, former NFL defensive back. What he is famous for is being the 1st Black man to work full-time as a sports analyst on national tv.
(15.) Mary Wilson, a founding member of the famous Supremes singing group of the 1960's.
(16.) Leon Spinks, former heavyweight Champion. The fight that he is most famous for is the 1978 upset when he beat Muhammad Ali. Ali did reclaim the title.
(17.) John Chaney, famous College Basketball Coach.
(18.) Cicely Tyson, an award-winning actress who helped open many doors for other Black Actress.
(19.) Hank Aaron, Major League Baseball player who broke Babe Ruth's home run record.
(20.) Last one is not from 2021, but died in January 2022. Everett Lee, a conductor who is said to have broken down racial barriers. The Chicago Defender called him the first Black conductor "to wave the baton over a white orchestra in a Broadway production." Interesting he was born in Wheeling, WV and is in the Wheeling Hall of Fame.
This is no way close to all who could or should be on the list. It is only a small few. It is a reminder that our heroes are dying every day, both white and black. We have dealt with this virus for the past two years, and more have died then we had ever dream. Now is the time for new brave, strong, people to make a difference in their community, no matter the color of their skin. Will you be one to make this world a better place before you have to leave? I hope to do so myself.
Darrell W. Cummings
Pastor of Bethlehem Apostolic Temple Wheeling, WV
& Shiloh Apostolic Faith Assembly, Weirton, WV